Natural wood is used in abundance throughout the cottages which combined with the stunning lake views and mountain scenery creates a peaceful environment.
With double-glazing and insulation, these modern style cottages are both cool in the summer and warm in the winter. The entrance and bathroom are completely accessible by wheelchair users.
Here are 2 cottages, East and West, and both have a wooden deck with table and chairs. The main pillar is made from old timber from the temple and the floor, ceiling and walls are all made from wood. Both cottages are non-smoking, however you may smoke on the deck.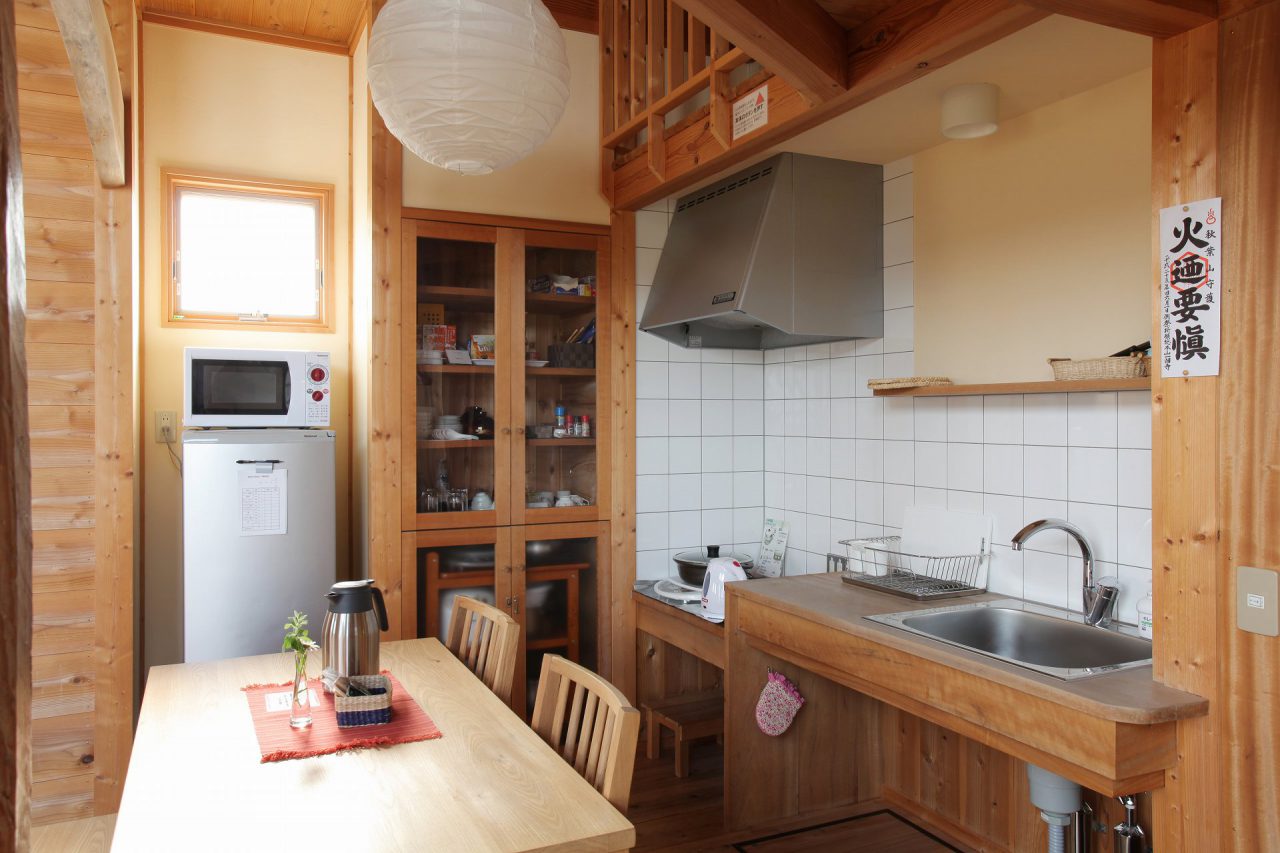 Each cottage is equipped with electromagnetic cooking appliances, a microwave, a refrigerator, a toaster, an electric hot water pot, cooking utensils, crockery and a child's chair.
The sink in the bathroom is made from wood of a tree that used to stand in the temple grounds. The toilet area is wide enough to accomodate wheelchairs.
The loft has 2 beds from which you can see out over Lake Shinji and the Chugoku mountain range. There is also a sofa bed on the ground floor.
All rooms have Wi-fi internet access. (Please bring your own laptop computer)
Facilities
Mt. Ichibata Cottage is fully furnished, providing the comfort and convenience of a hotel.
We will make the beds for you (up to 2 beds).
All crockery and cooking utensils have been washed in boiling water and sterilized.
You can make simple instant meals even if you have no ingredients or have not ordered meals. (Charges apply)
Electrical Appliances
Kitchen
A/C
2
Pans (Large & Small)
1 of each
Washlet Toilet
1
Fry Pan
1
TV
1
Large Plate
1 for each person
Vacuum Cleaner
1
Medium-sized Plate
1 for each person
Refrigerator (160L/2 Door)
1
Small Plate
1 for each person
Microwave
1
Rice Bowl
1 for each person
Oven Toaster
1
Soup Bowl
1 for each person
Electromagnetic Tabletop Cooker
2
Tea Bowl
1 for each person
Electric Pot
1
Teapot
1
Rice Cooker
1
Glass
1 for each person
Hair Dryer
1
Bowl
1
Wireless LAN area
All rooms
Strainer
1
Wire LAN terminal
2
Chopping Board
1
Knives (Large & Small)
1 of each
Washing Bowl
1
Drainer
1
Bathroom/Toilet
Tray
1
Bath Towel
1 for each person
Knives/Forks/Chopsticks
1 for each person
Towel
1 for each person
Spoons (Large & Small)
1 for each person
Simple Nightwear
1 for each person
Salt/Pepper/Soy Sauce
1 of each
Bathmat
1
Rice Scoop/Ladle
1 of each
Shampoo & Conditioner
1
Bottle Opener
1
& Corkscrew
Body Wash
1
Pot Stand
2
Toothbrush
1 for each person
Sponge Scourer
1 (New)
Razor
1 for each person
Dishcloth
2 (New)
Bathroom Mat
1
Wine glass
5
Wine opener
1
Bottle opener
1
Bedroom
Cocktail coaster
5
Bed (Loft)
2
Sake bottle, Sake cup
1+5
Sofa-bed (1F)
1
Saran Wrap
1
Spare Bed
1 for each extra person
Aluminum foil
1
Sheets
1 for each person
Paper towel
1
Pillow Case
1 for each person
etc 
Refrigerator
※Extra Charges Apply
Mini-Bar & Basket
※Extra Charges Apply
Drinks Various
Boil-in-the-bag/Instant Food Various
Ice Available
Snacks Various